89% of organizations will be using modernized WMS system functionality for labor planning and management by 2024, according to G2's Warehouse Automation Statistics.
It's an excellent move for companies that need faster fulfillment experiences and improved customer reputation. It solves the challenge of getting inventory to the right locations and creates efficiencies around how that inventory is stored and moved.
Cloud based warehouse management systems save your company a great deal of money, too. They show you how to make the best use of the inventory you have, reducing out-of-stocks and excess carrying costs. All while getting more orders to the right locations on time. 
So what is a warehouse management system?
It's an intelligent software platform that gives businesses a real-time view into their entire inventory fulfillment operations from click to order delivery. Warehouse employees can easily see what inventory is available and where it is at all times – along with the fastest, cheapest way to pick, pack, and ship.
They guide teams to best picking and packing strategies – such as batch, bulk, case/pallet, each, and cartonization. Easily prioritize orders, and even individual items as part of the order, with the ideal collection routes. And ensure all the necessary products ship in a fraction of the time.
These systems use intelligent order routing and inventory allocation, configured to your specific warehouse processes, which means more profits per square inch on the floor. With real-time data being fed into scanners, it's very easy for staff to get orders out the door fast. And very hard to make a mistake.
Who needs a cloud-based WMS system?
Modern cloud-based warehouse management software provides ultimate inventory control. It is designed for companies that need to improve the use of labor, space, time, raw materials, and operating capital in serving today's high-volume, competitive omnichannel space. 
Global supply chains, including retail, ecommerce, manufacturing, consumer goods, and third-party logistics (3PL) businesses, can improve customer service with fast delivery on orders exactly as promised. No matter where they buy, receive, or return products. 
As these businesses continue facing widespread labor shortages, competition, soaring costs, and unwieldy volumes, their warehouse operations must collaborate in an intelligent, cloud-based system that can respond and adapt faster.
Deposco's industry-leading platform helps businesses maximize inventory control. They align fulfillment with modern buying preferences and expectations, in one adaptive platform. Our Bright Warehouse cloud-based WMS prepares your company to get a handle on current growth when It's Grow Time™, while building a warehouse that can grow how your business needs it to. 
Related Article: Which Warehouse Software Do You Need? It's Complicated.
Types of warehouse management systems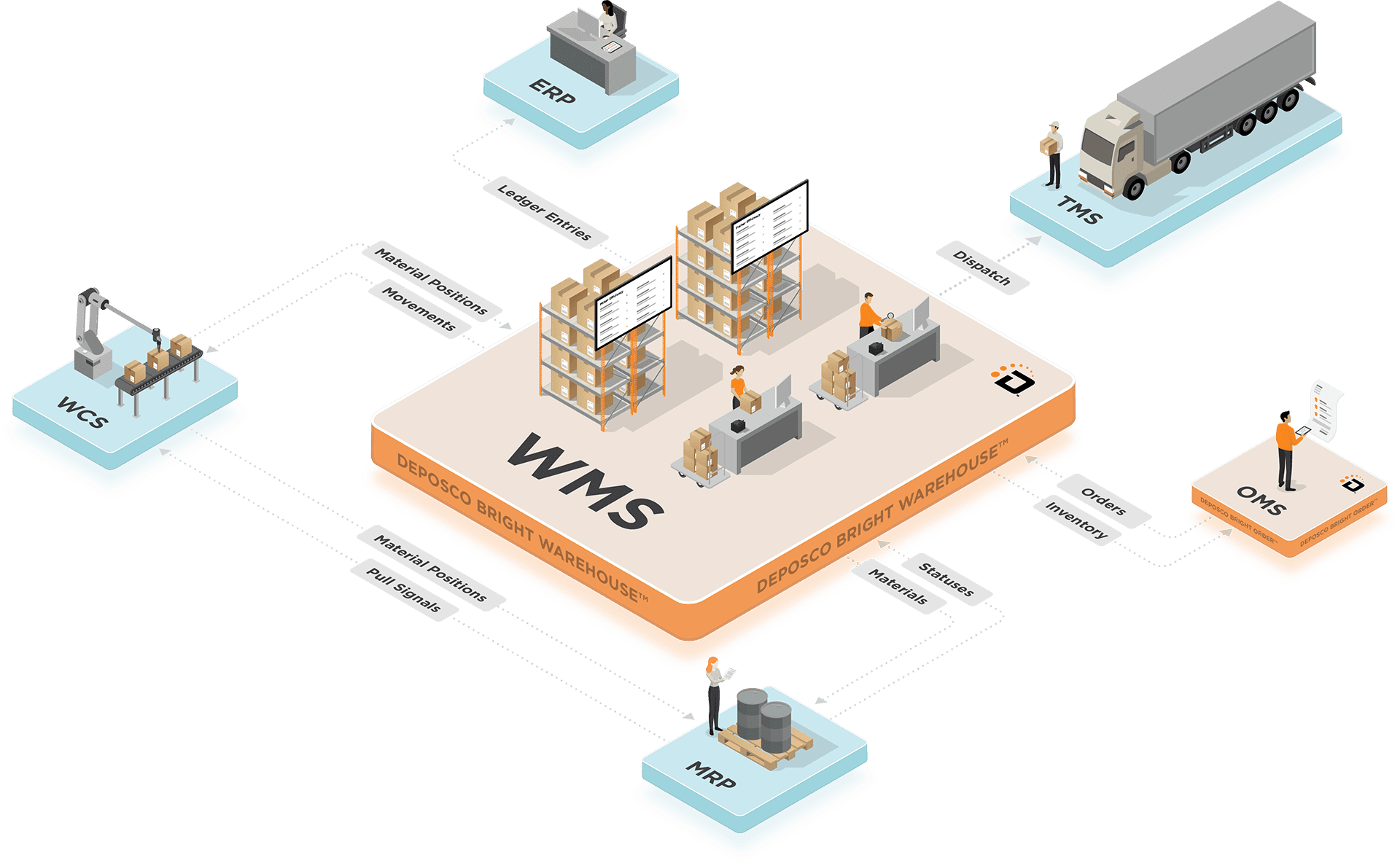 There are a variety of different software tools to consider:
Standalone WMS tools
Modern warehouse management WMS + order management system (OMS)
Monolithic supply chain platform
Enterprise Resource Planning (ERP) with bolt-on or homegrown functionality
Supply chain management analytics
WMS for 3PL warehouses
Cloud-based or on-premise
Omnichannel fulfillment supply chain applications
Read a detailed explanation of the various classes of WMS software tools. Ideally, you want a cloud-based, modern WMS system that integrates order management software (OMS) and distributed order management (DOM) capabilities.
These systems software bring ultimate adaptability and predictable spend vs. out-of-the-box (monolithic) suites. Scale up your warehouse system at the same pace as your business with additional features that support what you need as you evolve.
The partner should offer clearly defined scaling modules, along with extended partnerships, to support this. This ensures that you can quickly and cost-effectively add or make changes without re-investing in a more robust WMS or OMS in the future.
WMS, OMS, and DOM defined
A WMS helps you manage the operations of a warehouse or distribution center—from receiving and inventory management to order picking and shipping.
An OMS system centralizes orders from multiple sales channels and makes it easy to handle orders, inventory, fulfillment, and returns.
You may also hear the term DOM (distributed order management). Here's an in-depth explanation on what is the difference between OMS and DOM.
Warehouse operations in ERP systems vs. a dedicated WMS
There is much confusion around inventory fulfillment in ERP vs. when to buy a WMS. One of the biggest benefits of a dedicated WMS is that it does not have to replace existing investments in legacy systems or become a huge IT project. 
Flexible WMS platforms like Deposco can be used as either a standalone or can connect seamlessly to the systems you already use, including your financial (ERP) or CRM. 
The key difference is that, whereas ERP inventory fulfillment modules simply "account for" growth, a modern solution directs it. The modern cloud architecture of a dedicated WMS incorporates the benefits of real-time data, analytics, and time-saving automation into one consolidated source of truth. With one codebase that makes technology upgrades fast and painless, at a predictable cost, when a change is needed.
Benefits of a WMS system
Dedicated systems bring superior benefits and functionality in the areas of:
Improved customer service

Real-time visibility and decision-making

Supply chain analytics

Automation

Intelligent order routing and fulfillment

Returns management

Technology flexibility

Inventory control
Real-time visibility, system-directed decisions, NO lag
A cloud-based system provides a consolidated, real-time picture to warehouse management teams needing to:
Improve efficiency in fulfillment

Handle high volumes and peak season without increasing labor 

Lower transportation and shipping costs

Reduce human errors and late, missed, or incorrect deliveries 

Get people in multiple locations on the same page 

See inventory and tracking information that's reliable enough to share with customers and external supply chain partners
At any time, staff can log into one cloud-based system for a comprehensive, easy-to-understand view of all daily tasks, as well as system directives that simply aren't there in financial (ERP systems), spreadsheets, or homegrown/legacy systems.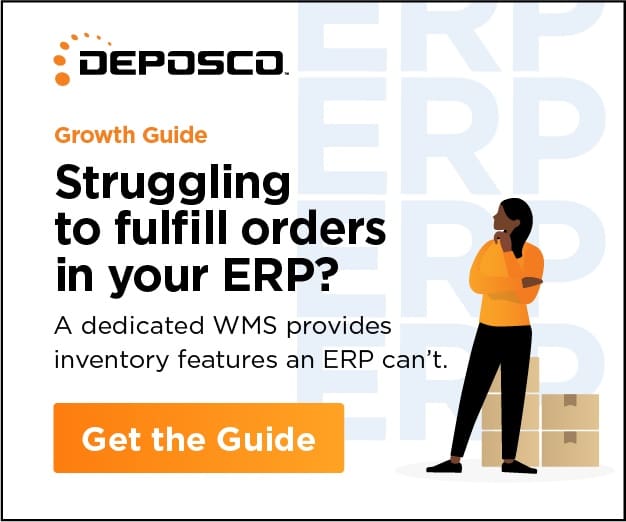 Your most important supply chain analytics, together
A warehouse management system analyzes what your staff is doing against customer needs on a rolling basis. It warehouse gives your business vigilance into how it can improve and adapt to stay ahead of trends. 
Intuitive supply chain data analytics and reporting dashboards aggregate your warehouse management KPIs and make recommendations to improve warehouse operations, inventory control, and customer service via factors like:
Individual metrics on picking and packing, order count, cycle count, and order by channel

Compliance with customer-specific packaging and labeling requirements

Product performance and buying trends, improving stock levels

Factors impacting shipping costs (average delivery distance, box sizes, weight, etc.)

Profitability by item, channel, location(s), and customer

Ideal inventory locations and smart order routing
The best WMS partner helps you set up your analytics dashboards with the most meaningful data for your business. Unlike rigid product suites that pigeonhole your team into specific out-of-the-box reports, a dedicated warehouse management solution directs cost-saving optimizations to keep the business growing.
Labor-friendly automation
Cloud-based WMS platforms with an automation component reduce labor costs, overtime, and wasted time – while protecting against customer-facing disruptions. No more adding headcount to handle physical inventory counts and quality checks. No need to dig through spreadsheets or dozens of emails to get inventory information or details on an order. 
Automated workflows reduce confusion and give staff speed, confidence, and inventory control. In many cases, we've seen our warehouse management system eliminate overtime and even full shifts. That's operating capital that can be funneled into into higher-value tasks:
Manage raw materials optimally

Find the right product locations, retrieve items, shop shipping rates, and look up detailed order information without the manual overhead

Get automatic suggestions for custom requirements and instructions for cartonization, kitting, and SSCC label generation. No more looking up addresses, pick lists, or paper-based tracking numbers that can easily get lost

Integrate backend systems with supporting technologies such as material handling equipment (MHE) and robotics,

inventory sorting systems, and more

Fulfill orders with virtually zero human error, which is the #1 cause of fulfillment problems
Intelligent order routing and fulfillment
According to warehouse management trends, logistics challenges brought an additional $223 billion in additional costs from freight, manufacturing, and labor between 2020-2021. Complications in peak season alone brought $163 billion in added costs, and companies spent 10X more to transport products from one point to another.
These growing pains have elevated the need for companies to draw on efficiency-pumping WMS capabilities like intelligent order routing, which streamline pick-pack-ship to both costs in warehouse operations, bringing fulfillment times up to speed with the rigid expectations of consumers. 
A WMS system with intelligent order routing and fulfillment allows your teams to:
Establish wave strategies based on priority or order size

Segment inventory across marketplaces and customer groups. See an example with our Shopify WMS integration

Rate shop to find the best shipping price on every order

Directly integrate with shipping carriers, EDIs, and third-party systems to improve fulfillment speeds

Tap into bin-level barcode scanning and validation to maximize efficiency, quality, and warehouse utilization with fewer human touches. 

Strategically map out the warehouse and optimize trips, eliminating physical fatigue (which also improves labor retention).
Leaner returns management
The rise of Buy Online Return in Store (BORIS) is putting pressure on warehouses to manage returns efficiently:
The

ecommerce product return rate

is now up to 30% 

92% of consumers will buy again if the product return process is easy

79% want free return shipping
The time, paperwork, and costs to get returns back on shelves and updated in your systems are carving away at the bottom line. Put operating cash back into something more valuable while making it possible to meet return preferences with less safety stock.
A lean, paperless system lets you trace a return every step of the way, making items available for resale or transfer faster, with less overhead in receiving and shipping:
Track and instantly sync returned goods, even those in transit

Easily process receipts and advise on where best to send returned goods

Keep staff up to date on returned items to speed up the refund cycle for customers

Save time in restocking and cross-checking piles of paper to get counts back into the system, ready to sell

Eliminate clutter and free up warehouse space
Technology driven by market needs vs. IT limitations
For many businesses, the technology decisions are dictated by IT or business limitations, rather than by true market need. An advanced warehouse management system like Deposco offers 150+ WMS integrations that get existing and future tools all in one place – with a path to deploy them quickly when they are needed. 
Not limited by the rigid architecture of financial (ERP systems) or legacy systems, you can roll out new capabilities in just 90 days and continuously update your platform with very minimal IT resources. Having the industry's largest library of pre-built supply chain integrations ensures that your fulfillment capabilities stay relevant and responsive to current market needs while allowing IT to use their vacation time:
Integrate your ERP system or preferred legacy system into one codebase; no customization or IT consultants

Add external applications you will need later, like marketplaces, retailer EDI networks, MHE fulfillment robotics, shipping carriers, POS systems, and much more

Configure the intuitive interface to work best for your warehouse operations. Hone in on what users need to see, and onboard people in a matter of minutes

Add third-party supply chain applications and customer-facing systems securely

Connect order management system (OMS)

capabilities that streamline multichannel fulfillment, physical

store inventory fulfillment

, and other cloud-based systems when you are ready.
See how this works: Example with our Shopify WMS integrations.
Superior control over customer experience
Flawless, same-day delivery, product offerings, and predictability are table stakes when competing with industry leaders. These systems remove the administrative burden from your team by delivering rich insights that allow you to prioritize your customers' needs optimally.
Collect organized data to address new preferences and a personalized touch, such as custom kitting and labeling. Staff can also prioritize orders based on physical considerations – like size and weight, distance of delivery, and other factors – to shape customer service alongside cost reduction. 
Identify the root cause of delivery problems and stop them.

Update customers on order status at any given time

Spend time rolling out new services instead of managing logistics

Increase market share and customer loyalty

Gain insights about past purchases to predict/drive new ones

Understand which activities make you the most profitable
A WMS directly leads to faster fulfillment speeds, cost reduction, order tracking, order accuracy, and inventory control. So businesses can take on more orders without growing pains, high costs, and technology barriers. 
Now that you understand the benefits, let's see how that translates into value and growth. 
Related Article:  What is the best WMS and what benefits drive ROI the most?
How to calculate the ROI of a WMS system
What is a warehouse management system's ROI and how do you calculate it?
When calculating the ROI of a WMS, it's important to define what WMS warehouse capabilities are most important to your unique business goals. Take this Savings Calculator for a spin to estimate what your company can save. Play with the variables and see instant dollar savings based on your inputs.
But what you can save is only part of the ROI story. 
A WMS warehouse management system enables revenue growth without overspending. Support the broad scaling of suppliers, raw materials, products, distributed channels, and services with:
One source of the truth for inventory everywhere

Reliable information without paper that can get lost

Superior efficiency and control over customer service

Modern, nimble functionality with a lower lifetime cost and onboarding in minutes

Continuous improvement of warehouse operations and labor management
Which is best?
Flexibility is the future. Businesses that invest in the right warehouse management software for their business will be able to make better decisions all around, free up staff from manual tasks, and always spot the next opportunity to improve things operationally and for their customers. 
Choosing the best platform for your business is more than a matter of working your way down an industry top 10 shortlist. First, you must weed out all the misleading sales pitches, stakeholder politics, and functional unknowns of your investment.
Warehouse management strategies and system comparison tools
Start by evaluating solutions in terms of how each one benefits your unique goals (or doesn't). To make this easier on you, we've compiled the best warehouse management strategies and comparison tools on the planet, right here:
Build your WMS platform
Companies trust Deposco Bright Warehouse when It's Grow Time™
$10 billion in total customer sales revenue supported by Deposco 

3,000 of the world's fastest-growing businesses rely on the Deposco platform

43 million customer orders processed on the Deposco platform in 2021
Experience enterprise-grade benefits such as company-wide visibility, extensive flexibility, and real-time data generation. Regardless of your existing size and infrastructure. 
EXPLORE THE BEST WMS ON THE PLANET