WMS software selection hub
Capabilities checklist
What WMS software capabilities do you need? There are a lot of intangibles to consider, beyond working your way down an industry top 10 WMS short list. Download this warehouse management system checklist to start your fully customized search.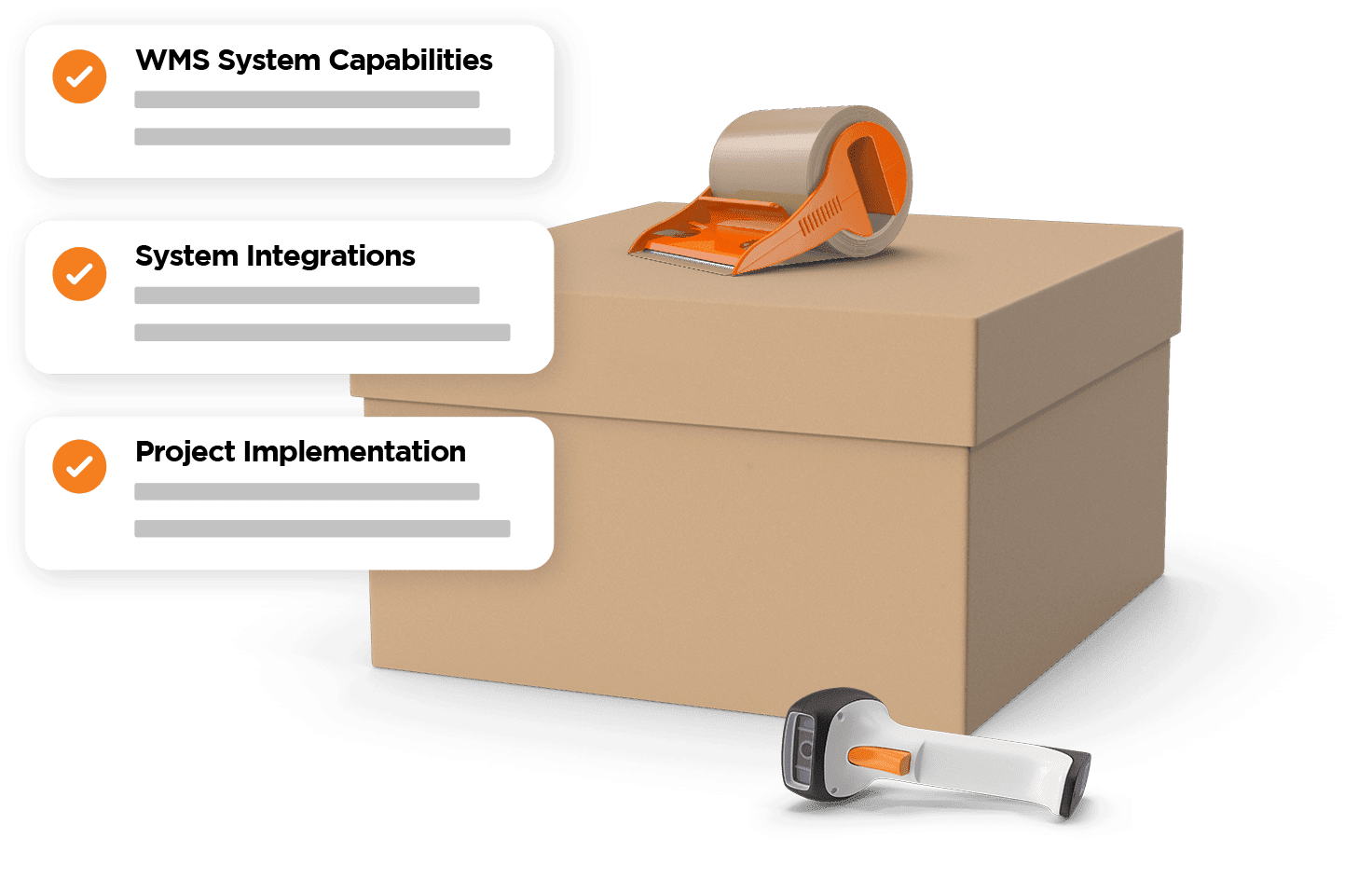 ---
Checklist details
Enter provider information below to customize your checklist
Provider Name

Provider Name

Deposco

System Architecture

Built in the cloud

Cloud-native built on Amazon AWS, fully developed in-house, with no third-party plug-ins or middleware required. Data all in one place allows real-time collaboration, accurate decision-making, reliability, speed, high-volume scaling, and operational savings.

Singular codebase

Connects current systems into a singular database that uses a tailored rules engine to fit your operational process, without customizing code. A hosted, true cloud-based architecture and SaaS model enables scalability and sub-second system performance – without friction, error, or lag.

Stand-Alone

One source of truth for multi-facility, B2C, and B2B inventory fulfillment. A modern, flexible platform that ties together advanced scanning technology, direct APIs, and current (often siloed) systems – bringing enterprise-grade visibility, speed, and agility.

Open Access

Securely access apps from any major browser; no additional desktop software to install. Limitless choices for Android or iOS mobile devices, from rugged mobile scanners to consumer-grade mobile phones, making your workforce highly productive.

Security and Redundancy

A secure platform configured for high availability with built-in redundancy. All services including network, database layer, and application components have redundancy built-in across several availability zones. High availability and disaster recovery configurations maintain solution stability and rapid recovery. All communication traffic is locked down using secure channels and stored data is encrypted.

Uptime Guarantee

Built on Amazon AWS, offering the highest level of uptime.

High-Volume Growth & Scalability

Built-in scalability to keep up with current demand and support future growth. All features are service-based, load-balanced, and work independently, allowing seamless scale-up and out as needed. Ensure uptime and labor readiness for peak seasons, promotions, and product launches. Scale capabilities to easily integrate new locations, channels, and partners.

Unlimited Users & SKUs, No Hidden Fees

No per-user or per-transaction charge. No additional fees for overages, system maintenance, or upgrades. No ongoing fee to access the test/User Acceptance environment after go-live.

WMS System Capabilities

Aligns with All Core Operational/Business Requirements

A true SaaS platform specifically configured to your unique objectives and process. Supports advanced scanning for receiving, put-away, picking, packing/shipping, cycle counts, replenishment, and returns with system directives to optimize warehouse process and efficiency. Includes tracking of labor performance and KPIs within the system.

Paperless Picking

Maximize labor productivity, accuracy, and speed with fully automated and connected scanning technology. Paperless pick lists, pick tickets, orders prioritized and grouped automatically into waves/batches – and sent to pickers with pick tasks reduces travel/search time. Support for blind receipts, label generation upon receiving, automatic receipt confirmations to the ERP, and staging for QC/inspection.

System Direction

Real-time, system-directed inventory allocation and movement. See reliable Available to Sell/Promise inventory (not just On-Hand) and order status. Get advanced inventory management support for Lot Tracking, Expiration Date Tracking, Serial Tracking, FIFO, FEFO, RMA generation, and disposition codes for returns.

Bulk Order Fulfillment

Many retailers offer subscription services where you have that one big day each month to process the inventory and fulfill all of the subscription orders for that month. Take advantage of order fulfillment flows where the system directs users to bulk-pick and bulk-pack alike orders, so that customers can get their monthly subscription box on time.

Built-in Shipping Platform with Rate Shopping

Get fulfillment times <24 hours and save big on shipping. In house-built capabilities for multi-carrier rate shopping, integrated directly with parcel and local carriers. Shop shipping rates, generate labels, connect into billing, and provide full tracking and documentation in real time.

Cost Savings Improvements

A solution that not only runs your operations, but also optimizes them to save significant costs. Calculate box dimensions and tell packers which box size to use in order to reduce shipping costs. Consolidate multiple orders going to the same destination to potentially ship all goods in one box. Supports kitting, work order management, EDI integration, and custom label/packing slip generation by customer/trading partner.

Intuitive Onboarding

Easy-to-learn interface gets new hires and seasonal and temporary labor onboard and productive in <15 minutes. This cuts labor costs, enables fast ramp-up to reduce order disruptions, improves customer service, and boosts job satisfaction/retention.

WMS System Integrations

Full-Service Integration(s)

Vendor builds, implements, tests, and maintains all required integration(s) in house – including systems you already use (or plan to use): ERPs, ecommerce marketplaces, EDI partners, shipping carriers, and more. Extensive library of 100+ pre-built integrations that can be configured quickly via a web-based integrations portal, implemented in hours or days.

Direct API Connections

No middleware to integrate. Directly connect APIs to a cloud-native system, NOT one "migrated" to the cloud. Reduce costs, get innovation in place sooner to gain a competitive edge, improve productivity, and respond faster to customers.

Available RESTful/Open API

Options for RESTful/Open API through a Service Oriented Architecture that exposes flexible integration points, which are ready to support any custom integration you need – documented on the vendor's developer site.

Supports JSON, XML, CSV File Upload / Data Exchange

Built on open standards to support all the popular message formats. Enables your applications to integrate with the system, and interact seamlessly.

API Support

Best-in-class systems offer 300+ end points and RESTful API, facilitating application integrators to exchange and scale with a full suite of applications.

Project Implementation/Professional Services

Full Change Management

End-to-end responsibility and strategic partner alignment to ensure a frictionless implementation: gather detailed requirements; environment and base functional configuration; full management of integrations; testing, training, and go-live support – as well as ongoing server maintenance; software updates; live and online support; User Acceptance and Live environments.

Business Requirements Documented

Detailed business requirements within a capabilities map, which includes all features/functionality needed to support your business and operations. Team also generates an Integration Diagram that maps to all systems required, displaying individual touchpoints and data exchange between systems for POs, PO Receipt Confirmations, Items, Orders, Inventory Levels, Ship Confirmations/Tracking, etc.

Project Plan / Timeline

A structured process and team commitment to understand your needs clearly up front and deliver promises. The project plan should include: Statement of Work with project hours for implementation, timeline, and key feedback checkpoints and milestones for delivery. They should also offer weekly project status reports and functional flow/design documentation for how the system will be configured to support each operational process – improving time-to-value, results, and user adoption.

Onsite Support

Live onsite, in-person support for the entire week of go-live. The vendor should provide their implementation methodology during the evaluation process and task the implementation team at project implementation.

Agile vs Waterfall Methodology

Iterative and collaborative, or rigid and out-of-the-box? Whereas waterfall projects take years of heavy IT involvement, an agile implementation methodology ensures project deployment in 3-6 months on average. Collaboration and scheduled feedback loops throughout the process are essential to minimizing time, costs, training, and the need for extra/custom work.

Assigned Team/Experience

Dedicated professional services and partner network by your side every step of the way. From planning and design to implementation and training, to ongoing collaboration, consulting, and expert guidance.

Continuous Improvement

24/7 coverage

A partner; not a vendor. Configured success metrics and accessible support from a familiar, full-time project team. The project team structure should include an executive sponsor, PM, extensive partner network, design, operational and technical leads, power-user support, and customer success.

Post Go-Live Support

Scheduled meetings, along with proactive ongoing reporting and monitoring of KPIs, with recommendations for continuous improvement, for life. No "surprise" consulting costs tacked onto the contract.

Team Consistency

Support from someone you know by name. Probably their family's names, too. Seasoned in every detail of your business inside and out.

Assigned Customer Success Manager

Weekly 1:1 meetings with a dedicated CSM assigned to align on the strategic goals of your business. Meetings cover status updates, issues, new requests, and enhancements. The CSM also stays closely engaged in ongoing success planning, product updates and education, benchmark process improvements, key industry trends, events, partner business alignment, break/fix escalation, product expansion, and renewals.

Steering Calls

As part of the partnership offering, bi-weekly alignment calls with key executive leadership to mutually align on the business's overall vision for growth. During implementation and post go-live, you should have direct communication with an executive sponsor to discuss the success of the project, critical issues and risks, as well as align on future phases of work together.

Personal Contact Information

Not a chatbot, 800-number, or general email inbox. The vendor should provide a structured communication protocol, including named consultants (both implementation post go-live), their direct cell phone numbers, and email addresses.

Never Outgrow Your System

A system must scale up at the same pace of your business with additional features and functionality that support what you need as you evolve. The vendor should offer clearly defined scaling modules, along with extended partnerships. So that you can quickly and cost-effectively add or change capabilities without re-investing in a more robust WMS or OMS in the future.
Additional resources