ATLANTA, GA – MARCH 22, 2023 Deposco, the leading omnichannel supply chain fulfillment solutions provider, announced that Justin Stone, senior vice president of Business Development and Customer Success, has been named to Supply & Demand Chain Executive's list of 2023 Pros to Know.
The Pros to Know award recognizes outstanding executives whose accomplishments offer a roadmap for other leaders looking to leverage supply chain for competitive advantage. This year marks SDCE's highest number of nominations ever submitted for this award.
Stone has more than 16 years of supply chain leadership experience working with omnichannel brands like Feature, Altitude Sports, and Psycho Bunny. Currently, he and his team advise executives at retail, ecommerce, 3PL and wholesale businesses on how to align their financial business goals to technology through the lens of the broader supply chain to drive rapid value and long-term growth.
His unique leadership philosophy of finance as a growth strategy has solved some of the most complex challenges and supply chain transformation projects in the world. This approach has led to a long-standing track record with customers who seek help identifying quick-value supply chain solutions that support their long-term plans for enterprise value creation and expansion.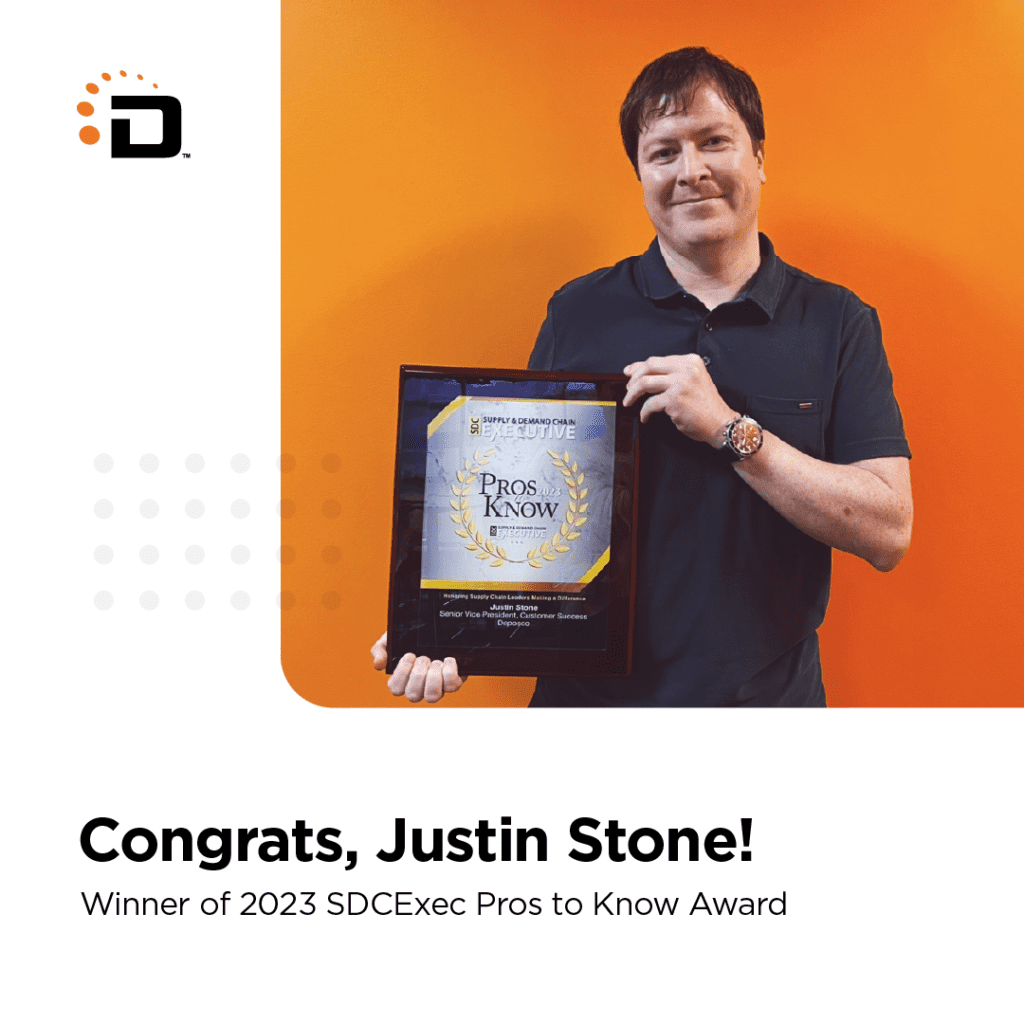 "I am humbled by this recognition, but it is a direct reflection of our customers' confidence in our strategic partnership," said Stone. "Their trust is what allows us to collaborate creatively on opportunities to optimize their profitability year after year, at a time when many of their competitors are just trying to get a handle on current volume".
Based on his contribution to healing supply chains, Stone has been invited to participate in a multitude of industry and leadership association talks, publications, articles and podcasts, and a feature on the cover of Retail POS. He earned a Retail Education Certification through Shop Talk, a retail ecosystem dedicated to shaping the future of retail based on the latest trends, technologies and business models. Stone is also an active member of Pavillion (formerly Revenue Collective), the international association for top sales and marketing leaders.
"Justin's success stems from his passion, creativity, and finance-driven formula for shaping our customers' growth journeys," said Bob McFarland, President/COO at Deposco. "His talents have inspired our customers to think methodically about the problems they are tasked with solving – which often results in the development of tools and processes that speed enterprise value creation and funding for new growth initiatives".
"This year's list is filled with supply chain professionals whose achievements and success stories have helped move the needle in the supply chain. They promote safety, sustainability and workforce development. They work toward helping heal the supply chain. They're actually in the supply chain," says Marina Mayer, Editor-in-Chief of Supply & Demand Chain Executive and Food Logistics. "We received close to 400 nominations this year, the highest number of nominations ever for this award. It's proof that today's supply chain professionals are doing great things for the supply chain. They embody what a true leader should be. And, without their initiatives, programs and collaborative efforts, today's supply chains would be in worse shape."
Visit www.SDCExec.com to view the full list of 2023 Pros to Know winners. The overall winner will be announced and celebrated at ProMat 2023 in Chicago.
Learn about Deposco's omnichannel fulfillment supply chain software.
About Supply & Demand Chain Executive
Supply & Demand Chain Executive is the only supply chain publication covering the entire global supply chain, focusing on trucking, warehousing, packaging, procurement, risk management, professional development and more. Supply & Demand Chain Executive and sister publication Food Logistics are also home to L.I.N.K. and L.I.N.K. Educate podcast channels, L.I.N.K. Live, SCN Summit, SupplyChainLearningCenter.com and more. Go to www.SDCExec.com to learn more.
About Deposco
Deposco's Bright Suite of omnichannel fulfillment supply chain applications is how fast-growing companies rapidly scale their warehouse management and order management operations, so they can see what inventory they've got, where it is, and where to position it to fulfill demand when It's Grow Time™. It's the only solution that provides this much actionable insight into both your supply chain and the broader marketplace. Streamlined into One Solution, One Focus, One Team.
That's why over 3,000 of the world's fastest-growing ecommerce and DTC businesses rely on Deposco. We're supporting over $10 billion in sales and over 51 million consumer orders annually. Last year, we saw total shipment growth increase by 78%. Deposco. #ItsGrowTime™! Learn more about Deposco at www.deposco.com. 
Media Contact:
Todd Craig, SVP Marketing for Deposco