Technology acquisition in Operations is a key driver of successful growth. You get to a point where the way you did it before can't go any further. What got you here won't get you there. When it comes to finding the best warehouse software for your company, you have a number of options. 

Some focus on inventory fulfillment, and some on material handling. Some try to do everything. 
Efforts to compare warehouse software tools can be like going to the supermarket hungry: you buy way more than you need, without even knowing it. It is easy to get a bundle of software, but will you use everything this year? Next year? Ever?
Shelfware is a term for software that is collecting dust in the IT department. Bought with the best of intentions, but never deployed.  
The key is: what do you need now and for the future?
Not generally accepted terms
Understanding what the terms mean is important. The current labels for best warehouse software don't clearly communicate their use cases. The terms are not fixed and do not denote minimum requirements. You can start with the generic label, but then a careful look into your firm's needs should drive the buying process. 
The ABCs of best warehouse software
Here is a visual guide to the warehouse software landscape, along with descriptions of the types, to help you select the best warehouse software for your business: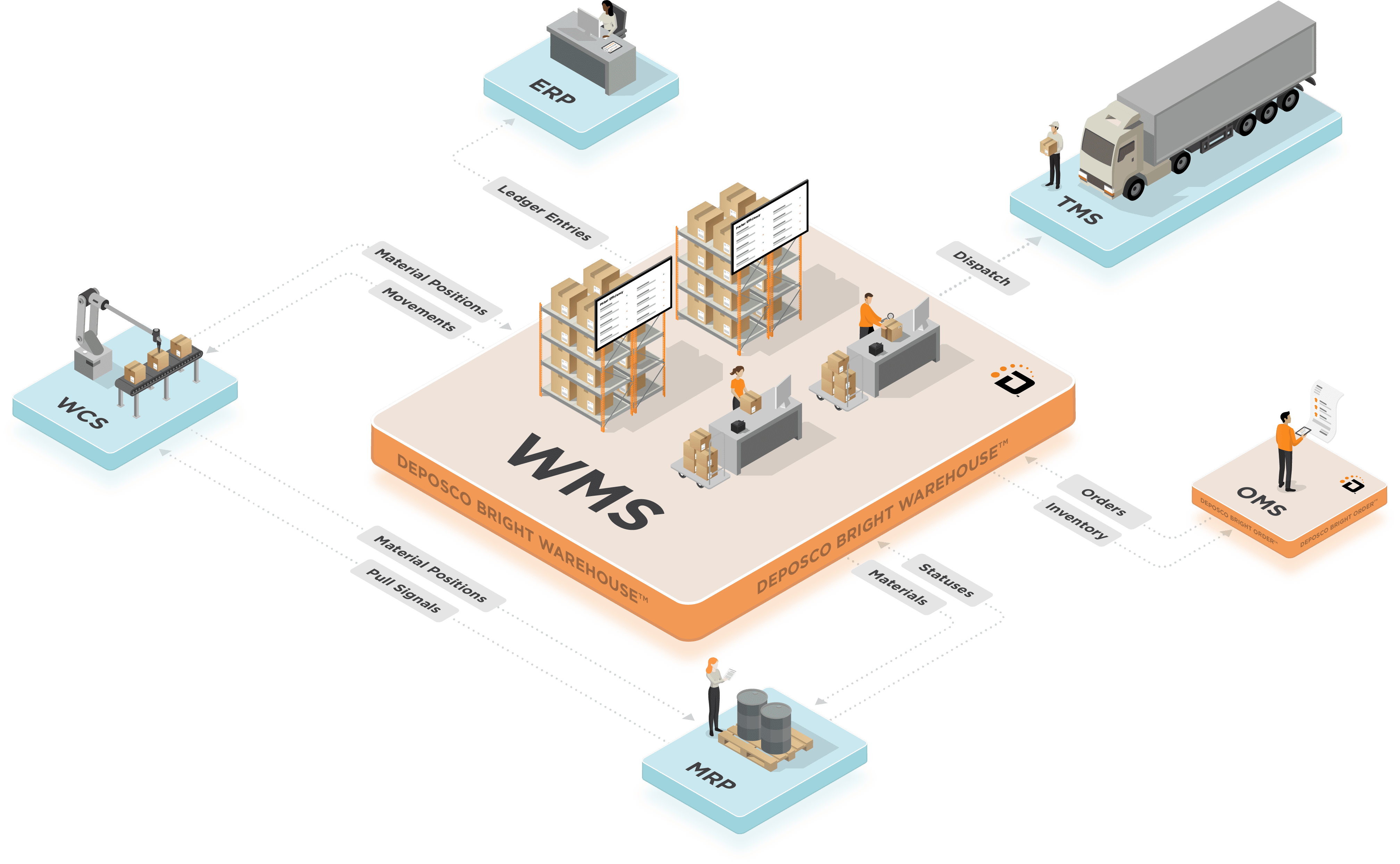 What is a Warehouse Management System (WMS)?
Warehouse management systems focus on inventory-impacting processes. Traditionally, the WMS is the system of record for inventory management and covers functions around receiving, storing, validation, picking, and shipping.  
Early warehouse management systems may not cover Direct-to-Consumer (DTC) shipping and focus strictly on pallet/case picks and business-to-business transactions. These systems are considered NOT real-time.
What is a Warehouse Control System (WCS)?
The WCS handles automation systems in the warehouse. This broadly coordinates Materials Handling Equipment (MHE). It looks at conveyance, sorters, robotics, and other automation features in the warehouse. 
The warehouse control system is the Traffic Cop of the warehouse. It focuses on the movement of inventory from storage to various stations in the warehouse.
The WCS is considered additive to the WMS system and will send inventory disposition signals back to the WMS for record keeping. These systems operate in real-time.
What is a Warehouse Execution System (WES)?
The WES is a more recent term that combines full or partial components of both the WMS and the WCS. 
Carefully assessing the features of an individual provider's WES solution is critical. It is not a standardized term that includes standardized functions.
What is a Material Requirements Planning (MRP) System?
The MRP is specialized for tracking goods from raw materials to "Work in Progress" to finished goods in a way more WMS, WCS, and WES systems are not designed to address.  
MRPs include formulas for sequencing and pegging, pull-based replenishment based on a Bill of Materials (BOM), and the continuous flow of materials into goods based on a production schedule.
What is an Enterprise Resource Planning (ERP) System?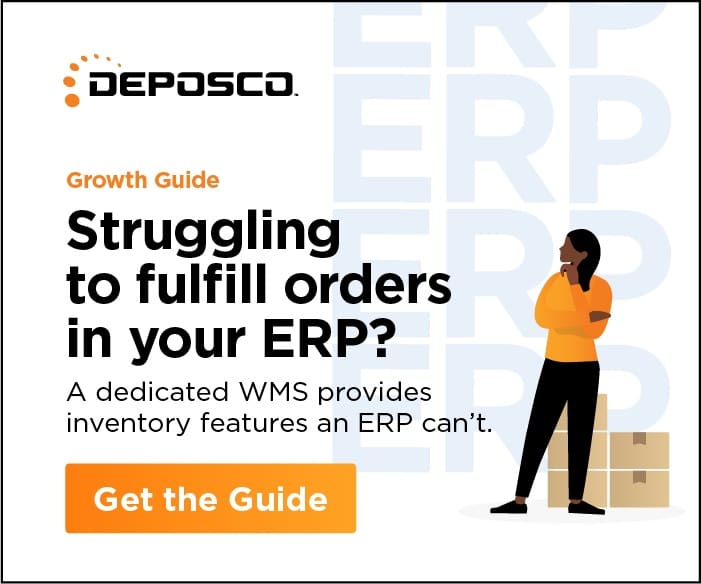 ERP systems are usually the first coordination software a company acquires. The ERP is focused on the financial tracking of a firm. One of the primary uses is tracking purchases and sales orders.  
One of the appeals is that many offer modular business functions. You can enable basic functionality as needed or purchase them in a bundle. The important differentiation is that most of these are feature-light when compared to a purpose-built solution like a WMS.  
Often small business and mid-market companies leverage their ERP's inventory fulfillment module heavily to delay acquiring the appropriate solutions.
What is an Order Management System (OMS)?
An order management system, often coupled with a Distributed OMS (DOM), focuses on executing on orders, especially in multi-channel fulfillment. 
The focus is on finding the optimal way to fulfill orders based on a combination of cost considerations and inventory availability. Order management and DOM software can be used to process both business-to-business (B2B) and Direct-to-Consumer orders.
When the OMS is distributed, it is able to consider the inventory position in the entire network, including stores. This means that beyond just focusing on end-to-end order processing, the DOM ensures that the ideal location is selected for processing.
Related: OMS vs. DOM, What is The Difference?
What is a Transportation Management System (TMS)?
Transportation Management Systems are built for the movement of materials and goods into and out of facilities. Their focus is providing features around scheduling and tracking shipments.  Advanced systems include optimization around loads and dispatch scheduling.
The volumes that are fed into the system come from other solutions. Inbound orders are created and tracked by procurement systems. Outbound orders are generated by the WMS or order management system.
A TMS is not a replacement for any inventory system. It can track limited metrics such as Inventory In Transit and can calculate estimated arrival times.  
Now, which do you need?
You know what these terms mean, but what is the best warehouse software for your needs?
Let's start with business introspection. Ask these questions about your immediate needs, identify the gaps, and add a reasonable amount of growth projection:
Is my facility manufacturing a product? You want to use an MRP. These systems can be supported by a WMS for managing inventory, but the complexity of process-based manufacturing requires specialized systems.
Is my facility storing the finished goods? A WMS system is the appropriate choice. While some WCS software has inventory tracking functions, these systems will not be as robust. If considering a WES, make sure it has the inventory management features you need.
Will my facility handle order processing and direct sales? Modern warehouse management systems that incorporate order management software and DOM functionality are ideal for this function.
Are we incorporating Material Handling Equipment (MHE) at the facility? If you are not storing inventory, a WCS might be sufficient. The preferred model is to have both a WMS and WCS with clear responsibility delineation.
Will the system handle labor allocation and tasks? WMS systems handle task allocation very well. When scaling, think about which tasks should remain with workers, and which should be handled by warehouse automation and thus a WCS.
Am I considering Internet of Things (IoT) devices for monitoring and response? While some WMS systems can incorporate limited IoT devices, WCS software is more suited to accommodate them. WMS systems support a lot of tagging, which focuses on inventory such as RFID. Ensure that you know the use case you want to solve here.
Am I planning on deploying Robotics in the warehouse? Running a blend of WMS for order and inventory management that supports integration to a WCS is the best of both worlds. Avoid buying solutions that limit your options when acquiring robotics by supporting only a few standards.
Do I have a SaaS preference? Warehouse management systems like Deposco are fully available in the cloud. Real-time systems like a WCS will function best on-premises because of the real-time decision-making of control systems. This directly impacts staffing and acquisition costs, for good or bad.
There's also the "trusty" option of just using your ERP. We've dedicated an entire article on why that's a bad idea: Inventory Fulfillment in ERP vs. WMS Software, What's the Difference?
Which questions apply?  
Which ones are priorities?  
This will vary from business to business, site to site. 
Bottom line
Find the best warehouse software for you. 
The best advice I can give for this is: to ask, which one best simplifies my supply chain? If you have a 'wild west' of fragmented systems in different locations, you can expect problems. Getting a system that puts everything together in one place makes your job easier and reduces risk. 
Make sure your warehouse management software partner has a blueprint for current and future success without allowing you to overbuy.