Shopify is a big part of the growth plan for many retail and ecommerce businesses that want to take advantage of the growing direct-to-consumer (DTC) retail market. A less-understood topic is why you need a warehouse management system (WMS) with integrated order management (OMS) for Shopify. 
More importantly, how do you connect your inventory fulfillment system to Shopify and know that it will communicate and sync inventory in real time, free of problems?
Does your ERP's inventory fulfillment system have a pre-built Shopify WMS integration? Can it stand up OMS and DOM (Distributed Order Management) and other supply chain applications in a way that will grow your business?
The future of ecommerce
The future of ecommerce requires selling more products to more people in more places. With ecommerce shopping experiences on a whole new level. Sales and marketing teams know this. And Shopify makes this easy. But what pressure does this put on your warehouse management teams?
If you're looking to expand the customer pool or tap into new channels, Shopify is an outstanding front-end platform. The back end is where many Shopify stores run into trouble. 
ERP inventory fulfillment vs. reality
Put your financial system (ERP) in the ring with the modern architecture and elegance that your customers experience on Shopify… And what do you get? A dinosaur taking on Ironman. Customers expect a PlayStation 5, but is your warehouse more of a Magnavox Odyssey? 
Shopify makes world-class omnichannel shopping experiences easy during the ordering process. But often those experiences can't match up with what your legacy fulfillment solution can deliver. 
As a result, costly fires are happening behind the scenes to get orders to customers, including:
Manual pick-pack-ship processes

Staff overtime, inflated labor costs, and hiring up

Late, slow, missed, and incorrect shipments

High transportation and shipping costs

Inventory promised does not match inventory available

Blind spots with supply chain partners

Higher risk of supply chain disruptions 

Inability to innovate your multi-channel fulfillment offerings
Without a world-class Shopify OMS and WMS integration to handle increasing volume and complexity, it doesn't take long for growth to get out of hand. You can still sell on Shopify – but you won't grow. 
OMS and WMS for Shopify, essential to growth
Building your online store on a modern OMS and WMS for Shopify streamlines all your inventory fulfillment data into a single solution. Having a reliable, real-time cloud connection between Shopify, existing systems, and third-party supply chain applications is essential to long-term growth and risk mitigation.
What is Shopify good for 
What is Shopify, anyway? 
Shopify is an all-in-one commerce platform built to help companies launch their digital brand, manage inventory, and grow their business – online, in-store, and everywhere in between.
The company has 19% percent of the global ecommerce market, worth a projected $6.3 trillion this year and $8.1 trillion by 2026. Operating in 175 countries, the Shopify platform had more than 4.4 million daily active users in January 2023. and registered about 70 million visits at the end of 2022, according to new Shopify statistics from Manaferra.
Shopify is great for businesses that need to:
Create and customize an online store

Sell in multiple places, including web, mobile, social media, and brick-and-mortar

Manage products, inventory, payments, and shipping

Create, execute, and analyze online marketing campaigns
Shopify's point of sale (POS) supports a variety of retail businesses at any stage of growth, especially those that sell (or want to sell) products both online and in person.
The Shopify platform offers agility in serving radical changes in consumer behaviors and preferences, such as their increasing desire to shop in different ways and get fast, accurate tracking information.
What Shopify is NOT good for
Having to manually manage inventory fulfillment in your warehouse for Shopify orders causes many problems. Systems don't talk to each other well, or can't keep pace with volume, putting your business at a high risk of:
Broken customer promises

Higher labor and shipping costs

Poor customer experience

Slower fulfillment times

Missing or incorrect orders

Difficulty rolling out new services
How a Shopify WMS integration works
Shopify OMS and WMS software integrations such as Deposco Bright Socket connect all your back-end systems – including your financial (ERP) and legacy WMS and/or order management system (OMS). They allow Shopify to push orders seamlessly with a complete picture of growth. 
A WMS for Shopify works by connecting the systems you use now to external supply chain applications, and systems you'll need in the future. This makes it super-simple for users to see, manage, validate, and interpret data for top speed, savings, and customer experience. 
Deposco's Bright Socket application has more than 150 pre-built WMS software integrations and OMS capabilities to save your business a ton of time/costs during implementation. When technology upgrades are that easy, your business is much more likely to make them, be more attractive to the market, and keep more of its profits.
Related Blog: Make more, keep more: 12 ways fulfillment software grows a Shopify store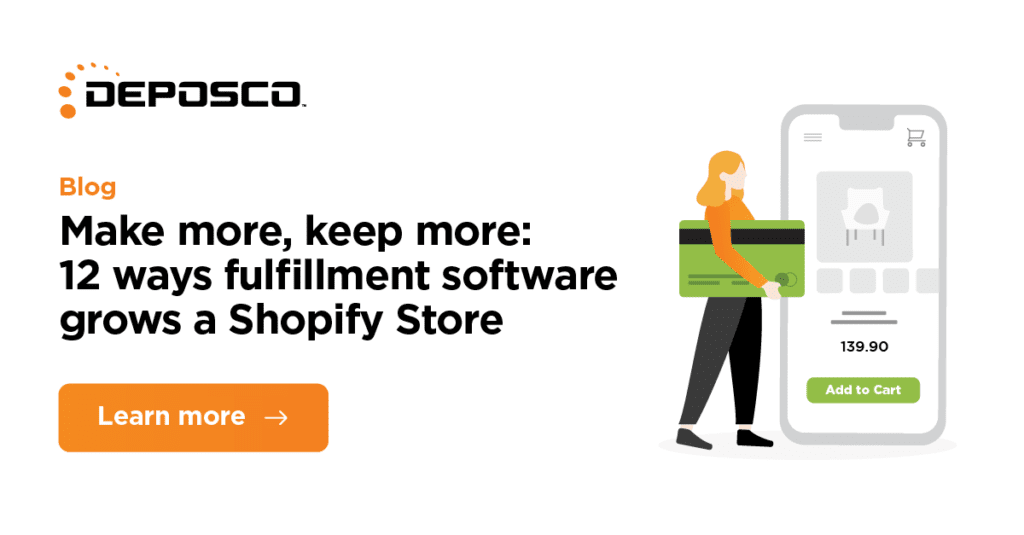 Features of Deposco WMS for Shopify
In addition to unifying all your operations, Deposco OMS and WMS for Shopify lets you build on your solution in a way that you can trust and afford. No matter what technology you need or when.
Deposco's WMS for Shopify uniquely integrates warehouse management tasks, like pick-pack-ship automation, into intelligent order management system capabilities (OMS), supply chain analytics and reporting, materials handling equipment (MHE), and more. For ultimate visibility and control in driving optimal decisions earlier in the value chain:

Real-time inventory sync across all locations, including your 3PL

Increased throughput during peak season without having to increase labor 

Custom services like cartonization, kitting, SSCC label generation

Intelligent order routing and inventory segmentation by channel, customer groups, order size, etc.

Rate shopping, fully connected to shipping carrier networks, marketplaces, etc.

No vendor transaction fees for volume or user growth

Automatic insights to ship faster and cheaper, buy smarter, and serve customers better

Ability to integrate your third-party logistics (3PL) partner
Learn More: Bright Order OMS order fulfillment software
Upgrade your WMS with an order management solution for Shopify. Sign up now for a free demo of Deposco order management integrations.
Shopify WMS for third-party logistics (3PL)
What about Shopify WMS integrations for third-party logistics businesses? These companies are putting 3PL order fulfillment solutions high on the priority list.
Particularly with the explosion of direct-to-consumer (DTC), 3PL firms are investing in order fulfillment solutions to meet the accelerating demands of their clients. For many, their clients' problems are their own operational problems, too. 
Deposco's OMS and WMS integration for Shopify prepares your 3PL fulfillment operations to handle client needs in lockstep with 3PL trends like:

Explosive volume growth on top of labor challenges

Gaps in technical skills to support the rise of direct-to-consumer retail 

Rapid changes in consumers' delivery expectations

Risk and disruption in peak season

Complexity of products, suppliers, and channels
Get this 3PL fulfillment software guide to learn how to solve labor issues. Onboard new clients in days. Slash costs and create a value-rich 3PL fulfillment infrastructure for your clients:
Related Guide: How to Grow Your 3PL: Fulfillment Solutions that Win Customers for Life
More Shopify WMS integration resources
Are you a customer?
Looking for customer documentation on Deposco and Shopify? It's in our Deposco customer portal (must have your login handy).
Want to BE a customer?
Why not get to know Deposco's Bright Suite of integrated OMS and WMS omnichannel fulfillment supply chain applications. The industry's most comprehensive and flexible platform of inventory fulfillment solutions combining warehouse management, 3PL fulfillment, order management and DOM (distributed order management).