Everyone wants to sell on Shopify when It's Grow Time™. Creating your online store will generate quick sales on Shopify, but it is not enough. If you don't have ecommerce fulfillment software locked and loaded in the warehouse, you'll quickly end up spending more than you make to get those orders into your customer's hands.
Customers expect world-class Shopify experiences. What happens when your inventory fulfillment operations are not world-class, too?
When ecommerce stores fail, this is why
The biggest reason why ecommerce stores fail almost always traces back to one of these 4 inventory fulfillment fails. Overly anxious to get those sales transactions flowing in, the business underestimates growth and the need to prepare their inventory management processes for it. Inevitably, that growth:
Will happen faster than you anticipate

Brings costlier consequences as you scale

Makes it impossible to adapt your services and be competitive

Is way more manageable and scalable, with the right ecommerce fulfillment software
RELATED GUIDE: 4 inventory fulfillment fails (and fixes) for selling on Shopify. An ecommerce fulfillment software guide to keep your online brand growing smarter.
12 things you can do with ecommerce fulfillment solutions
Deposco's fulfillment solutions for ecommerce let you focus on the total financial picture of your Shopify business. The built-in Shopify WMS integration allows quick and easy technology changes. No surprise IT costs or implementation delays. No feeling like your tech stack is always a step behind the pace of today's expected standards for ecommerce fulfillment.
With one solution, one focus, and one partner you can:
Seamlessly connect your financial systems (ERP) and push orders to back-end systems without talking to Shopify

Sell on many channels and scale without operational strain

Ensure fast, easy set-up, smooth onboarding, and full support

Scale technology at a lower cost; nothing unexpected

Get proactive, ongoing recommendations for improvement 

Easily meet the requirements of doing B2B wholesale business with large retailers

Offload DTC retail fulfillment; maybe even become your own 3PL 

Connect physical stores and manage Buy Online Pickup in Store (BOPIS) / Buy Online Return in Store (BORIS) inventory within the same real-time system for all channels (Tell Me More)

Make peak season predictable (and NOT scary)

Minimize customer churn, returns, and other risk factors

Take the guesswork out of what to sell

Adapt to new consumer preferences, manage suppliers easier, and be first to market with new products/services. 
Example: Deposco and The Daily Grace Co.
Ecommerce merchant of gospel-centered resources and accessories, The Daily Grace Co., was seeing explosive growth:
Top-line revenue was doubling every year since 2019 

Two inventory tracking systems combined could not keep pace

Poor system communication with Shopify caused missed orders

A dedicated role had to manually rate-shop and QC cycle counts for every order

They were losing revenue and maxing out at 1,000 orders a day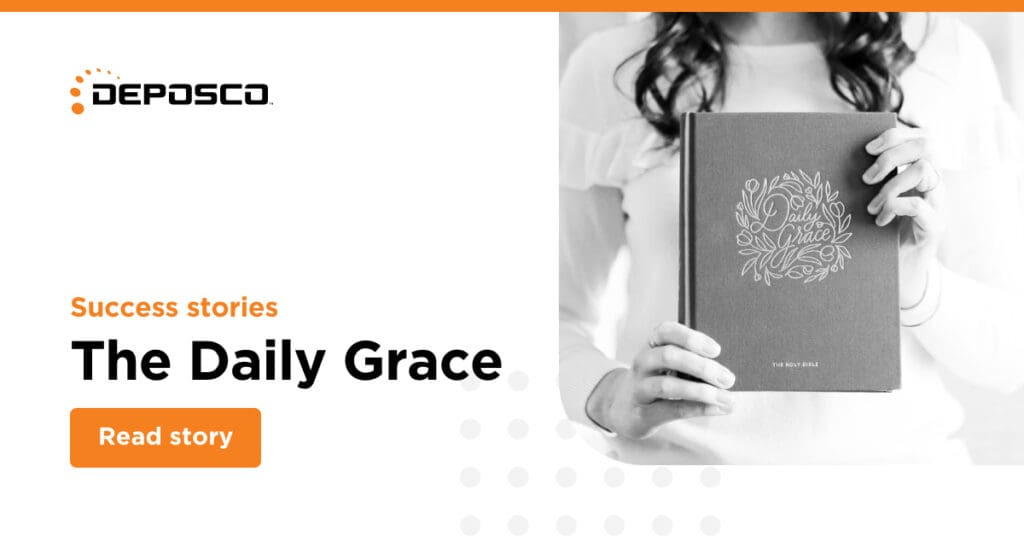 The company partnered with us to consolidate their systems into Deposco, a fully flexible ecommerce fulfillment software system that bridged their inventory management operations to advanced back-end functionality, including bin barcoding and scan validation. As a result, The Daily Grace Co. realized:
275% increase in daily orders fulfilled 

650% increase in top-line revenue

99.97% order accuracy
The Daily Grace Co. is now beginning to expand their warehouses across the U.S. and introduce global inventory fulfillment options. 
"Deposco has helped us immensely by putting our picking and shipping under one umbrella. The impact of SkuVault and ShipStation not talking to Shopify, and having to take all of the products out of bins to check them, was too much. At the end of the day, our accuracy was failing due to too many hands in the cookie jar." – Logan Brewer, Director of Warehousing and Operations, The Daily Grace 
What it takes to be profitable on Shopify
One solution for ecommerce fulfillment
Connecting all your inventory management systems together will fix immediate customer-facing problems, while showing where to grow profits next (vs. just growing operational expenditures related to increased sales). This is a vital weapon for winning Shopify stores.
One solution gets all your inventory data in one place from the back-end to the online storefront. So you can inject the aggregate finance equation into every business decision: 
Quickly see everything impacting your bottom line – and get system-directed strategies to improve things for both your customers and your brand

Connect your ERP, warehouse management systems (WMS), order management systems (OMS), and extended supply chain applications seamlessly

Reduce the capital spend on labor and shipping

Make it faster and easier to make critical technology changes — which may include untried methods of selling, sourcing, and moving products that are more profitable
A plug-and-play for order management 
At some point, you'll likely need to:
Add SKUs, suppliers, and growth segments.

Maybe you'll launch a direct-to-consumer (DTC) retail channel

Or decide to sell on additional ecommerce marketplaces.

You might even be contemplating opening a brick-and-mortar storefront.
Odds are, these changes will require order management system and Shopify WMS integrations you just don't have time to build or hire out. 
For example, you can add a drop shipping partner or automated order routing feature to dramatically improve logistics costs and fulfillment speeds. You may want to leverage pre-ordering technologies to start selling new products without owning the inventory. 
Most retailers want to take this leap, but feel they lack the tech infrastructure, time, and expertise. 
A partner you can grow with, together
Selling on Shopify profitably requires a true partner, not a vendor. One that can fully guide your ecommerce fulfillment set-up. That includes back-end OMS + Shopify WMS integration with your marketplace others marketplace apps; external supply chain partners; and ongoing support. 
Deposco is one WMS + OMS solution, one team, and one focus: to grow your business smarter. We bring fully flexible ecommerce fulfillment solutions that can scale your Shopify brand profitably from startup to fully mature omnichannel enterprise – without ever having to switch partners. 
Retailers using Deposco have seen increases of +90% in top-line revenue and +63% in YOY shipping volume, with +99% order and inventory accuracy. How can you?