Bright Performance
Analytics and reporting
Bright Performance allows you to view your supply chain analytics and reporting data in real-time so you can clearly recognize where your operations are excelling and identify where there are opportunities for operational improvements.
Download brochure
Results
99.9%
Order and inventory accuracy
"Deposco has created more dashboards for us that provide a quick view of our order volume and top SKUs, and created reports so we can see how many order lines exist per item. Overall we have been operating very well during this time, even with Black Friday peaks every day."
An analytics and reporting platform designed for
real-time decision-making
Monitor performance with real-time visibility
Evaluate real-time statistics and monitor KPIs that are important to your business. Simple-to-understand performance charts enable you to view team efficiency, sales, and shipment metrics all in one place.
Unlock real-time visibility
Track performance
Bright Performance enables you to establish benchmarks to track certain data points and gauge your performance over time. Capture real-time data, such as the following:
Top-selling items
Order count
Picking and packing
Fulfillment metrics
Cycle count tasks
Orders per channel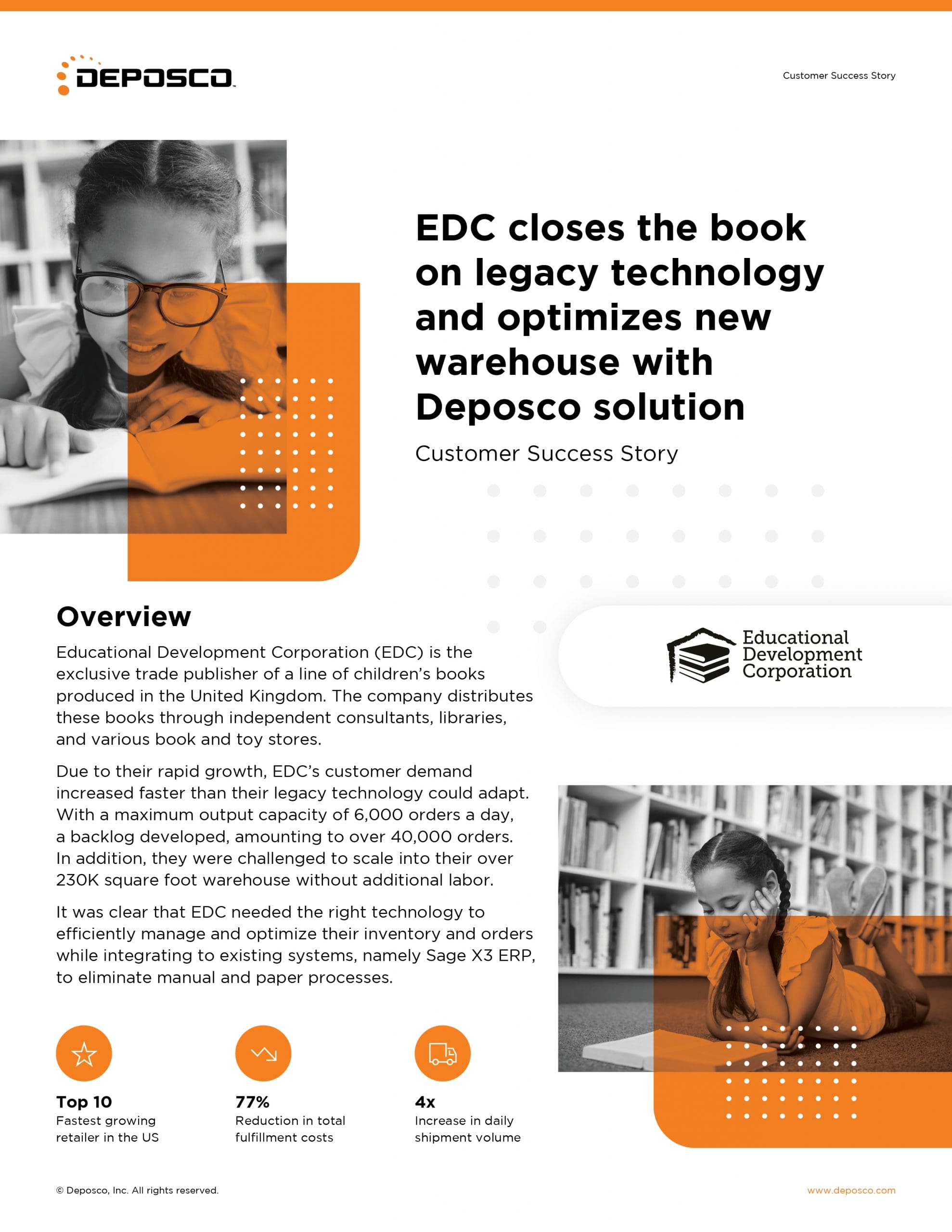 Featured resource
EDC closes the book on legacy technology and optimizes new warehouse with Deposco solution
Read more
Automate reporting alerts
Mark one more task off your to-do list. With Bright Performance, you can establish automated notifications and alerts for inventory levels, financial recording, sales generated, and other processes.
Learn how to automate reporting
Build custom reports
Need to track a specific product or channel? Bright Performance empowers your team to generate real-time reports based on your specific business needs. Create custom reports by leveraging easy-to-use report models.
Make decisions with confidence
Real-time data and metrics for fast decision-making
Performance dashboards
Automated metrics tracking
Self-service and custom reporting
Baseline operational reports and KPIs
User activity tracking to measure productivity
Inefficiency prevention with automatic alerts
Operational process improvements over time
Avoidance of delays and bottlenecks
Generation of printable reports for executive teams