Welcome back to this series! In Part 1, we defined what is a warehouse management system and offered in-depth strategies on how to buy the best warehouse management system (WMS). Today let's go deeper into the discussion with the top 8 benefits of buying the best WMS for your business. These benefits are the top factors driving the ROI of your WMS investment.
What is the best WMS system?
The real question is, which WMS partner best understands and addresses the things that keep you up at night? 
Your WMS software selection is a crucial investment in your company's future growth. Deposco customers like multi-trade contractor Power Design Resources can tell you — take time in your WMS software buying process and it'll pay off. Don't just choose a solution based on a name. Or price. Or the needs you have this year… Choose a flexible WMS that will fit your needs and lay out a frictionless path for the future. At a predictable cost.
With the plethora of available warehouse management systems today, the best WMS partner is the one who knows exactly what your business and your customers need. Depending on the size, industry, and growth rate of your business, that takes a solid focus on how the WMS benefits your unique workflows and customer KPIs. It's having a vendor who commits to driving real, long-term ROI, versus just signing a contract.
ROI of a WMS: the solution must fit the business
Not the other way around. Predicting the ROI of a cloud-based WMS solution requires taking a long hard look at the 8 benefits of a WMS and how the solution is built to flex and meet your needs in each area:
Real-time inventory visibility 

Data analytics and reporting

Labor management and warehouse automation

Warehouse utilization and intelligent routing 

Returns processing

Security and IT manageability

Supply chain software integrations

Customer experience
Every WMS vendor will tell you they do all of these things. Maybe they do to some extent, but most out-of-the-box systems are built around the vendor's goals, rather than your essential needs, which often color outside the lines. And that's okay.
Sit down with your potential partner; ask to carefully examine how they plan to support your future growth in each of these 8 areas. That flexibility truly makes a difference:
Top 8 benefits of a WMS system
1. Real-time inventory visibility
Looking to tighten up picking and packing?

Need to make data available to people in multiple locations?

Want to trust that data enough to share it with customers and your supply chain partners? 

Tired of late, missed, or wrong deliveries due to old or siloed data?

Spending too much time hunting down order tracking information?
Given widespread labor shortages and turnover, the most valuable asset of your warehouse should always be your team. The people who work in your warehouse must be aware, attentive, and knowledgeable about what inventory is where at all times. And they need instant intel on how to do the best job at the lowest operational cost. WMS software gives your teams the visibility to accomplish this. 
Get important data out of silos
Everyone can get a comprehensive, easy-to-understand, reliable view into all operations, including day-to-day tasks as well as other nuances that would go unnoticed in a financial system (ERP), spreadsheets, and homegrown WMS bolt-ons.
Providing workers with a single source of truth about warehouse operations drastically reduces confusion and gives them confidence and control in their decisions, with intelligent guidance on how to do the best job possible. 
Keep people safe and working
Real-time inventory visibility also makes your warehouses a happier and safer environment for your employees. Access to reliable data, on top of warehouse automation tools, lets teams strategically map out the warehouse, reducing human error, wasted trips and physical fatigue, and generally a better quality of life that will keep them coming to work. 
Mitigate disruptions
Consolidating siloed inventory data into a consistent workflow also improves morale. Which alleviates risk around personnel disruptions like no-shows, walk-outs, quitting, and overloaded crews during peak season. Best WMS software comes with an intuitive user interface that allows you to onboard new employees in a matter of minutes, further reducing the risk of disruption to your customers.
Connect the entire network in the cloud
When you are ready to extend this visibility outside the 4 walls, and even to customers, Deposco Bright Warehouse can fully connect your entire fulfillment network. We can even connect to physical stores and your existing point-of-sale (POS) systems if you need that later on. 
With real-time information being fed into scanners, Deposco makes it very easy to fulfill more orders faster – and very hard to make a mistake. Our system enables businesses of all sizes, and even third-party logistics (3PL) firms, to leverage the transparency, speed, accuracy, and efficiency of the cloud – solving today's costliest problems in a single, real-time warehouse management software.
2. Data analytics and reporting
Struggling to extract data from clunky or siloed systems? 

Can't reduce costs because you never seem to have the whole picture?

Do you turn away orders due to day-to-day inefficiencies you don't know about?

Can you easily monitor staff performance at the individual level to improve speed and reduce errors?

What if you could see your most loyal and profitable customers at any given moment?

Could smarter

demand planning

prevent stockouts, overselling, and chargebacks?
Compete, measure, pivot, and repeat
Staying competitive requires constant vigilance into your performance, and the market at large. This can be achieved quickly, thanks to the automatic data collection and report generation offered in best WMS solutions like Deposco's analytics and reporting application, Bright Performance. 
The system's constant data analytics and reporting insights allow you to assess and determine your needs on a rolling basis, keeping your business adaptable and ahead of trends. 
Some KPI considerations when assessing your business needs include:
Top- and lowest-performing products 

Average delivery distance and weight

Packaging and labeling requirements by customer

Picking and packing performance metrics at the individual level 

Order count

Cycle count tasks

Order by channel
These insights allow for cost-saving optimizations, such as ideal inventory locations and smart order routing through the warehouse. Deposco helps you establish the right supply chain management analytics to show the problems most draining on your business or team. 
Tailor your dashboard, keep saving
These analytics direct inventory management decisions that continually tighten up your overall and day-to-day operations and help save across a number of areas. We'll even set up the analytics dashboards specific to your business's most meaningful data. So you always know exactly what inventory you've got, where it is, and where there's demand for it… And can always plan ahead.  
3. Labor management and warehouse automation
Can you protect against customer-facing disruptions without increasing headcount? 

How much time is spent training new/seasonal hires on technology? 

Are your workers wasting time on physical inventory counts and quality checks; digging through spreadsheets; and sending dozens of emails related to an order?
Get more for every labor dollar
Automating your processes is a great way to improve labor management. Check out Deposco's long list of customer successes like this one with Plant Therapy, who tripled their hourly pick rates and increased daily order volumes by 700%, with average fulfillment times under 24 hours.
System-directed warehouse automation guides your staff to the right product locations efficiently for pick, pack, and ship. Workers can retrieve items, look up detailed order information, shop shipping rates, and more, without the manual overhead. 
Make custom services less painful
For example, Deposco's WMS can serve up automated packaging suggestions including custom labeling requirements and instructions. Orders get out without manually managing addresses, pick lists, or paper-based tracking numbers that can easily get lost.
Introduce material handling equipment (MHE) and robotics
These systems integrate in real-time with supporting technologies such as material handling equipment for fulfillment robots, inventory sorting systems, and more. Which allows faster, more efficient, and safer methods to fulfill orders. 
All of this means tightened fulfillment times, safer workspaces, fewer errors, and the ability to funnel labor spend into higher-value tasks. 
4. Warehouse utilization and intelligent routing 
Need efficient processes for cartonization, kitting, or SSCC label generation?

Want to utilize wave strategies based on priority or order size?

Need to segment inventory across marketplaces and customer groups?

How much time is spent shopping for the best shipping price on every order?

Would direct API with shipping carriers benefit improve fulfillment speeds?
Get more profits per square inch on the floor
The best WMS can help you to utilize every square inch of your warehouse space effectively, while freeing up time to focus on improving customer service and the profitability of every decision on the floor. 
Intelligent system directives can help you establish better processes to improve warehouse layout, accounting for all of your assets, inventory, available space, shipping costs, and other considerations. 
Improve pick, pack, ship
Advanced technologies including intelligent routing guides teams to the best picking and packing process for speed and order accuracy – such as batch, bulk, case/pallet, each, and cartonization. Teams can prioritize orders, and even individual items as part of the order, to see the ideal collection routes, and gather all the necessary products as quickly as possible, in the shortest distance traveled, all while doing so safely.
No time is wasted, so you get the most out of your people and your warehouse space. For example, Deposco's bin-level barcode scanning and validation feature creates a better workflow and quality control with fewer human touches. 
We can even connect these technologies to physical stores and existing POS systems if you need that later on… Which makes peak season much more smooth. With intelligent data being fed into scanners, it's very easy for staff to get orders out the door fast – and very hard to make a mistake.
Our work with The Daily Grace Co. is a great example: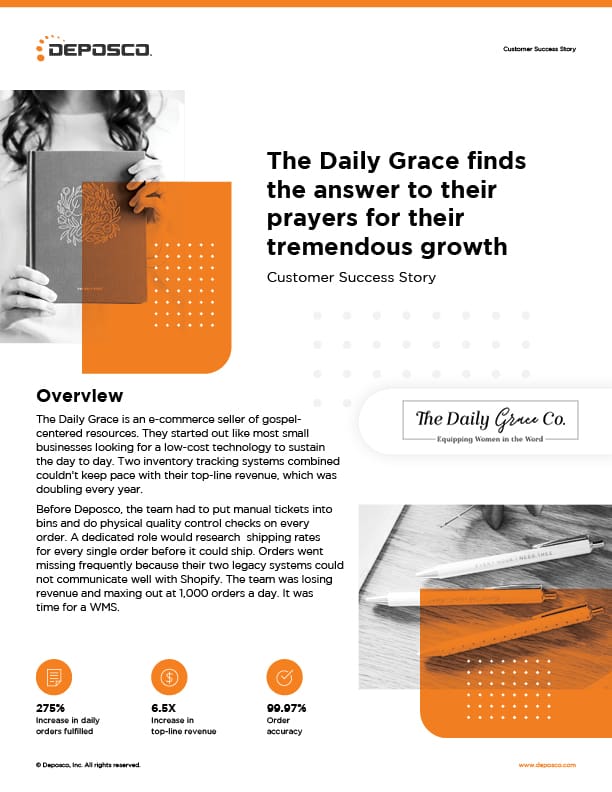 RELATED PODCAST – Listen Now
5. Returns processing 
Are increasing returns and complexities throwing off your inventory levels?

Need to reduce time spent on paperwork, restocking, and locating returned items?

What do you do with returned SKUs that have no barcode?

How much risk do you take on in processing refunds?

Are returned goods disposed of, or clearanced out, when they could be transferred and recommissioned to sell?
Returns were once friction points which good businesses would seek to avoid. The time it can take to process a return and authorize a refund is better spent on more important tasks. Not to mention the paperwork and re-sorting that comes with returned items. 
Allow returns from anywhere, with leaner carrying levels
The right WMS system provides an easy-to-use application to handle returns efficiently. The cloud WMS environment allows for a lean, paperless system that can be traced through every step of the returns process, ensuring that the item is routed properly, whether that means transferring for resale, disposing of damaged or unusable items, or restocking them.
Track and sync returned goods, even those in-transit
Your team can easily process receipts and advise on where best to send returned goods. No more wasted time wandering and cluttering the aisles or cross-checking piles of paper to get counts back into the system, ready to sell. Returned items instantly sync and update within your full inventory picture. This keeps everything straight, while speeding up your refund cycle for customers.
Invite your 3PL
This is especially awesome if you decide to work with a 3PL fulfillment firm [or decide to become a 3PL yourself], given Deposco's automated billing and 3PL fulfillment solutions. 
6. Security and IT manageability
Need tighter control and user accountability in your operations?

Do security audits or compliance inspections make you nervous?

Can you add a third-party supply chain application or customer-facing system and KNOW (not hope) that your data will NOT be exposed?

Are technology decisions dictated by IT/business limitations, rather than by true market need?
Keep data under your control
If a breach happens, customers don't care that it's the other company's fault. They trusted YOU with their data, and ultimately YOU are responsible. Deposco's cloud-based WMS offers the most secure, cost-effective, and scalable option at a time when keeping one's tech stack relevant can make or break a business.
With in-suite security, you can keep all your data safe and maintain trust with your customers. Your data stays with you, rather than with a third party that may not place the same importance on security as you do. Your data will be easier to manage, retrieve, and share in the cloud, on the fly. 
Let IT take their PTO
On top of that, Deposco is a warehouse management system that allows IT to use their vacation days. Not limited by the rigid architecture of financial (ERP) or legacy systems, you can roll out new capabilities in just 90 days and continuously update with very minimal IT resources.
7. Supply chain software integrations
Industry-best warehouse management systems like Deposco Bright Warehouse offer 150+ WMS software integrations to existing and future-state supply chain applications. 
Bring existing and future tools all in one place
Choose from in-suite or standalone integrations that can be used with your preferred tools including financial systems (ERP), CRM, and external applications like marketplaces, retailer EDI networks, MHE fulfillment robotics, shipping carriers, POS systems, and much more.
These supply chain software integrations are pre-built to plug in quickly without customization or IT consultants, allowing you to work seamlessly with other tools you need now (or may need later). 
Integrating everything in one place gives your business:
Improved productivity – spend less time on the phone or emailing to collaborate with supply chain partners

Faster fulfillment times

Ability to track orders and give customers information they can trust

99+% accuracy into what inventory is available to sell/available to promise

Technology that can be learned by users in minutes

New capabilities onboarded in a matter of 90 days
Watch this video to learn more about WMS software integrations:

8. Customer experience
Losing marketshare due to poor customer experiences?

Struggling to update customers on order status at any given time?

Missing deliveries and can't explain why?  

Can't get data about past purchases to predict and drive new ones?

Too bogged down by logistics to roll out new services?

Want to see which activities make you the most profitable? 
Flawless, same-day delivery, product offerings, and predictability are table stakes to competing with industry leaders. Deposcos removes the administrative burden from your team to not only make this happen, but also delivers rich insights that give you more ideas on how to optimize customer service further.
Collect organized data to address customer demands, such as custom kitting and labeling, for an added personal touch. You can also prioritize orders based on physical considerations like size and weight, and other factors, such as customer loyalty, profitability, or the distance of delivery. [Which, by the way, also saves on shipping].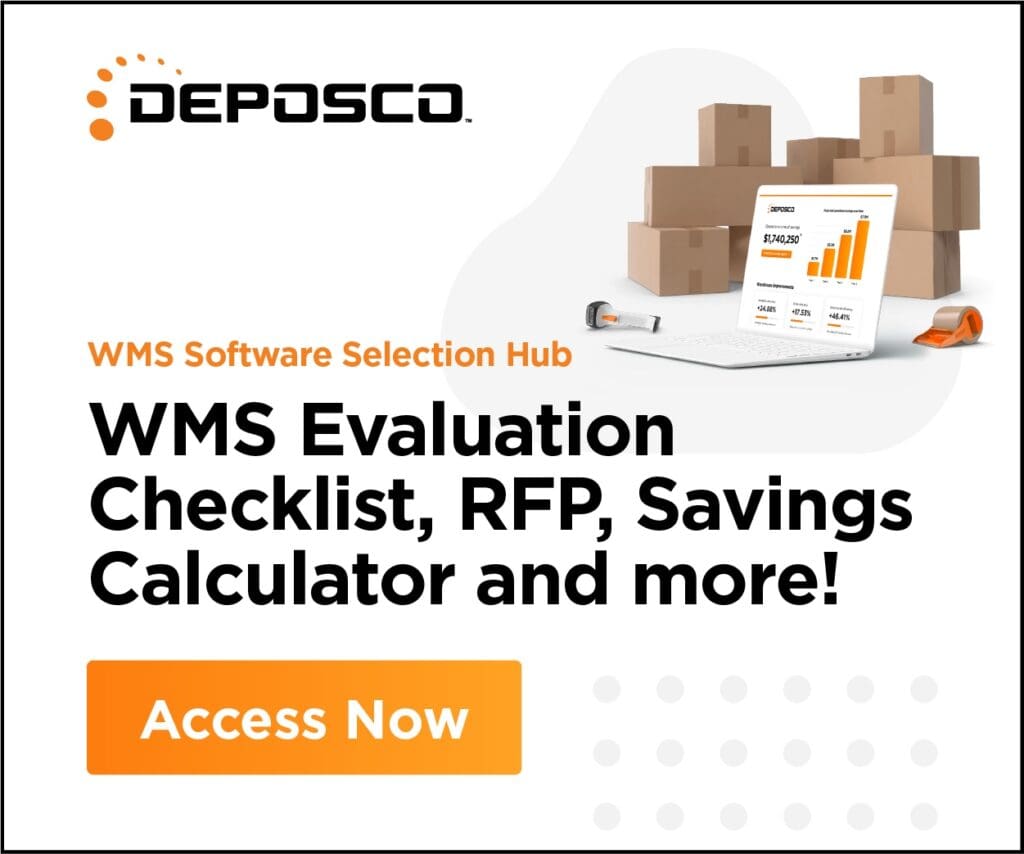 The best WMS system builds for your future
Build a robust platform of modern and configurable WMS solutions that let your warehouse scale the way it needs to. At the pace you need. No need to decide right now, or pay extra (a lot extra!) later.
A WMS system that can change without changing platforms
Companies evaluating supply chain management solutions often wonder:
With Deposco's Bright Warehouse WMS system application, there's no need to decide. You are NOT boxed into a massive investment, rigid functionality, or long implementation like you would be with a monolithic platform suite.
You have the flexibility to start with ground-level WMS capabilities and integrate the omnichannel supply chain applications you'll need later, but may not anticipate right now. That makes for a seamless growth path and predictable investment when the time comes to add:
OMS and DOM solutions

Third-party applications like robotics or ecommerce partners

3PL fulfillment services

And even applications for

store inventory fulfillment
Bright Warehouse is built from the ground up to bring all of it into one, when you are ready. Each time your business needs a change, you can do so without disruptive projects or expensive consultants. And have employees productive on your new technology in under 15 minutes. Unlimited users and no unanticipated costs for licensing, middleware, maintenance, or fees for "too many" transactions.
Configurable omnichannel fulfillment platform
Deposco's Bright Suite omnichannel fulfillment platform is packaged with configurable supply chain applications that cooperate seamlessly with one another at every growth stage:
Tighten warehouse operations with

Bright Warehouse

WMS

Fold in more advanced OMS and DOM functionalities to scale growth in multi-channel situations, like drop shipping and intelligent order routing, with Deposco

Bright Order

Then when you are ready, bring your physical stores and backroom POS activity into the inventory picture to streamline

store inventory fulfillment

services, such as Buy Online Pickup in Store (BOPIS) and Buy Online Return in Store (BORIS)
Compare and find the best WMS system
Do you want a partner who implements the entire product suite and says, "Good luck", sending you on your way without a scalable plan? Or one where you have the same partner implementing your WMS and taking charge of your long-term growth? Need some tools to ensure the best WMS decision for you?
WMS Software Selection Hub
These are the subtle, yet costly differences in choosing a warehouse management system. Avoid mistakes and find the right WMS with Deposco's WMS Software Selection Hub. Tons of WMS comparison tools are in the hub to help you narrow your search and buy the best warehouse management system for YOU:
Go Back to Part 1: How to buy the best warehouse management system for your business