Inbound Logistics has released its 2022 list of Top 100 Logistics IT Providers, and Deposco is pleased to share that we are on it! [See Page 78].
Big thanks to Inbound Logistics, our team, our partners, and the growing list of customers who use Deposco's 3PL fulfillment solutions to attack supply chain disruption.
Please join us in congratulating the successes of all companies who made the 2022 list!
Leading the Way for 2023: About The Top 100
What makes a "Top 100 Provider"?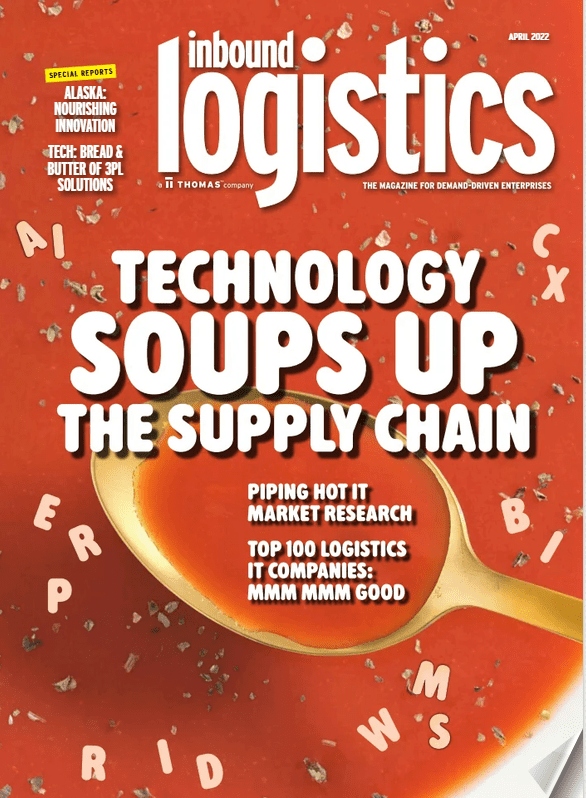 Every April, Inbound Logistics editors recognize 100  logistics IT companies that support and enable logistics excellence. Drawn from a pool of more than 300 companies, using questionnaires, phone calls, personal interviews, and other research, Inbound Logistics selects the Top 100 Logistics IT Providers who are leading the way to efficiency for 2023. Editors seek to match readers' fast-changing needs to the capabilities of those companies selected.  All companies selected reflect leadership by answering Inbound Logistics readers' need for technology across key areas:
"Deposco was recognized by Inbound Logistics for leading the way in 2022 and positioning enterprises for the years ahead," said Felecia Stratton, Editor, Inbound Logistics magazine. "Deposco excels at providing solutions that drive supply chain excellence and answer IL readers' need for simplicity, ROI, and frictionless implementation. Inbound Logistics is proud to honor Deposco for continuing to offer our readers solutions that optimize logistics and supply chain excellence." 
How 3PL fulfillment solutions grow businesses
It's Grow Time! But right now, because of port closures, labor shortages, and a host of other things working against supply chain, businesses lack the means to take advantage of growth opportunities in the way they'd like to, such as launching:
A new B2B or direct-to-consumer (D2C) channel
New warehouses, DCs, or store locations
SKU expansion and supplier diversification
Selling on ecommerce marketplaces like Shopify, Amazon, Etsy, eBay, etc.
With ecommerce spending on pace to hit $7 billion by 2024, 3PL businesses have a huge opportunity to lean in and help clients reach their growth goals faster, while realizing efficiencies within their own operations. Powered by market-leading omnichannel fulfillment supply chain applications, Deposco's 3PL fulfillment solutions help 3PLs win and retain bigger, better contracts by:
Having an efficient process to onboard a new client in minutes
Locating quick, accurate answers for clients without staff chasing inventory & wading through contracts
Supporting high order volumes with reduced labor and shipping costs
Adding value-rich client services like real-time order tracking, custom billing, and retailer-specific labeling requirements
For examples of how 3PLs are using Deposco's ONE SYSTEM approach to redeploy their resources into revenue-generating activities that lead to value creation, request a demo or download our new 3PL fulfillment guide here.
More about Deposco's 3PL fulfillment solutions
Deposco's omnichannel and 3PL fulfillment solutions deliver 99.9%+ accuracy in order fulfillment, real-time inventory visibility (inside and outside of the warehouse), quick integrations with existing systems, and powerful warehouse management (WMS) and order management (OMS) automation grow revenues and reduce operational costs, in a matter of 90 days.
Deposco is one system, one focus, and one team committed to making your next growth opportunity a reality — with expert, current + future guidance every step of the way. Watch this quick video to see how our omnichannel fulfillment supply chain applications accelerate growth.
Who uses Deposco?
Deposco's Bright Suite of omnichannel supply chain and 3PL fulfillment solutions is how fast-growing companies rapidly scale their supply chain management operations so they can see what inventory they've got, where it is, and where to position it to fulfill demand. It's the only solution that provides this much actionable insight into both your supply chain and the broader marketplace.
That's why over 3,000 of the world's fastest-growing 3PL, ecommerce, retail, and DTC businesses rely on Deposco. We're supporting over $10 billion in sales and over 43 million consumer orders annually. Last year, we saw total shipment growth increase by 78%. Deposco: One Solution, One Focus, One Team. #ItsGrowTime!
About Inbound Logistics
Inbound Logistics is the pioneering magazine empowering demand-driven enterprises. IL's educational mission is to guide businesses to efficiently manage logistics, reduce and speed inventory, and neutralize transportation cost increases by aligning supply to demand and adjusting enterprise functions to support that paradigm shift. More information about demand-driven logistics practices is available at www.inboundlogistics.com