Trends in 3PL order fulfillment show 74% of logistics leaders are increasing their outsourcing budgets by 2023. Between this growth, operational strain in your own warehouse, and intense competition from Direct-to-Consumer (DTC), a lot is on your shoulders to deliver value.
One thing is certain: your clients are tired of chaos in the warehouse. So why would you allow the same chaos in your own 3PL warehouse operations that you're supposed to be fixing for them?
Your clients are investing in confidence. Are you?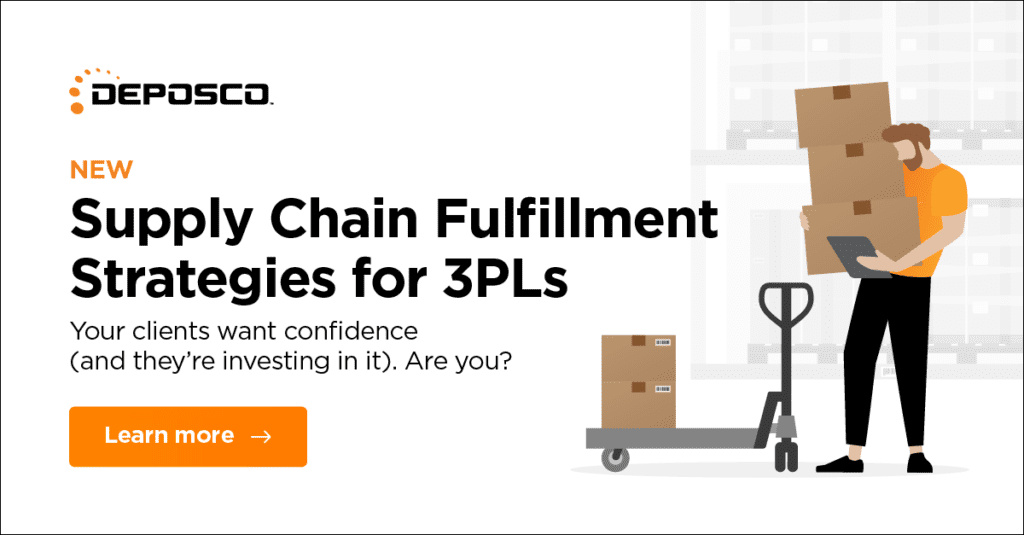 Related guide: The Case for 3PL Order Fulfillment Solutions: Why and How
3PL fulfillment solutions eliminate chaos for clients, attracting higher sales at higher margins. It's why the 3PL market is growing at the swift pace of 9% CAGR now through 2026.
The trends behind the chaos
Labor mayhem, inflation, costs, and other complexities will continue trending in the next 3-5 years. Many of your 3PL's clients are dealing with new order fulfillment challenges, such as the fact that peak season is now a year-round event for almost half (48%) of businesses.
Our work with high-growth firms reveals that 3PLs struggle most with how to:
Manage high volumes on top of labor challenges 

Provide technical skills to support clients with DTC ecommerce

Meet consumers' changing delivery expectations

Scale products, suppliers, and channels confidently
The next wave of DTC and supply chain chaos is in an upswell. Your best defense is to productize your 3PL fulfillment operations.
A 3PL fulfillment solution should be an urgent priority, rather than a future consideration. 
Are you doing the right things today to handle the growth your business will experience tomorrow?
Benefits of 3PL fulfillment solutions 
3PL fulfillment solutions provide rinse-and-repeatability for the services your clients/prospects demand most. This deepens enterprise contract penetration while accelerating profit margins and retention.
Some of the crucial gaps 3PL solutions fill are in the areas of throughput, labor, technical resources, and risk reduction in your day-to-day. As a result, the technology becomes one of your top sales tools!
These top 5 benefits of 3PL solutions attract and keep more clients: 
Higher volumes, same headcount
Ecommerce sales will represent 20% of total retail sales by 2024. In addition, Direct-to-Consumer sales could make up about half of your overall revenue by 2026!
When you consider that 73% of 3PLs interact with their customers on a daily or hourly basis, it doesn't take a master statistician to realize that more clients, channels, SKUs, and custom needs are getting out of hand.
Rather than staffing up or forcing overtime on employees, fast-growth 3PLs are implementing advanced solutions that automate warehouse management, order management, and distributed order management (DOM) in a consolidated platform.
These platforms offer fast, easy integrations for third-party supply chain applications to handle high volumes with the same-sized staff. 

Companies that use best-in-class 3PL fulfillment solutions have seen a 64% increase in order volume within just 3 months!
Real-time pick-pack-ship, order tracking, sales, billing tasks, and tracking in a cloud 3PL WMS has led our customers to:
2X to 3X faster order picking

Fewer complaint calls, logistics questions, and miles around the warehouse

Support for modern equipment such as sortation, materials handling equipment (MHE), robotics, pick to light, custom packing slips and kitting, and print-and-apply labeling that is EDI-compliant 
Technical savvy to support DTC
The booming DTC market is clutch for 3PLs that can provide technical expertise for the transition from B2B to B2C retail. 
Consider this:  
93% of supply chain executives believe that strong IT capabilities are an important component of a 3PL partner. Yet, only 55% are satisfied with their 3PL's IT abilities. 
Technology is a top ecommerce fulfillment challenge for your clients. That means the lane is wide open to turn this gap into a competitive opportunity. 
As you experience the influx of clients with diverse needs, it's tempting to say your business can do it all. But not productizing your 3PL fulfillment services can lead to a real IT nightmare. The logistics of supporting custom client requests should no longer drag you down.
A solid 3PL fulfillment partner brings an experienced and focused approach to removing these barriers. Choose a partner with an established, templatized processes that lets you onboard new clients in under 15 minutes.
The solution partner should provide white-glove support to your clients without your teams getting stuck in the middle. Maybe even help you set up tailored analyses on profitability by client, which leads to bigger and better contracts.
Flawless customer experiences
One of the biggest benefits of 3PL fulfillment solutions is being able to solve your clients' #1 ecommerce fulfillment challenge: meeting delivery expectations. 
Not only is the bar higher; for many of your clients, it is unreachable. Most are spending approximately 11% of their sales on ecommerce fulfillment logistics to keep clients happy. 
3PL fulfillment solutions solve this by orchestrating speed, precision, and value-added services to an otherwise chaotic delivery experience:
Real-time visibility

System-directed warehouse management tasks

Automated rate shopping and quality control

Intelligent order routing

Efficient execution of custom labeling and packing activities

Fast, accurate, self-serve billing options
Slash risk and labor costs in peak season 
From ships stuck at sea to labor struggles and lack of talent, today's supply chain conditions are ruthless during peak season. A 3PL solution brings stability and confidence to mitigate forces which a recent report says have officially reached fever pitch:
Peak season is getting longer and more challenging

Nearly 60% of supply chain executives lack confidence in their current system's capabilities

77% say that labor has affected their operations in the way of rising costs, slower order processing times, delivery delays, and customer service failures 
In response, the market's #1 response is to hire staff (over 30% of respondents).
So why are we hiring up?
With so many labor problems, isn't that fighting fire with fire?
Instead, advanced 3PL fulfillment solutions help manage risk and lower costs when you need it most:
79% of supply chain executives believe that investing in a WMS/OMS will prepare warehouses to be more profitable during peak season

Areas that stand to gain the most from a WMS/OMS include visibility, order accuracy, and on-time delivery
Rather than hiring up, leverage these systems' built-in data analytics to properly prepare your warehouse: 
Analyze staff performance KPIs on an individual level 

Keep complex client requirements straight 

Evaluate profitability by customer without manual work

Automate labor-intensive tasks to serve clients with varying needs optimally 
Give clients the confidence they want (and are investing in) 
Considering the sharp rise in global demand for 3PL fulfillment services over the next decade, 
3PLs that do not balance the risk of meeting their clients' needs against risk within their own operations will fail. The impact is too great (and growing).
What your clients need help with most
Right now, 40% of companies say inventory management is the #1 aspect they would like to improve in their operations in 2023. Specifically, they want help addressing:
SKU growth: 41% are identifying new suppliers

Lack of inventory: 38% are ordering supplies earlier

Order management complexities: 36% want to upgrade their OMS
How 3PLs are responding 
Third-party logistics fulfillment solutions bring confidence to areas where 3PLs and their clients need it. Unfortunately, that secret is already out among your competitors:
96%

of 3PLs currently have approved technology project budgets for enhancing their readiness and continuity planning in the areas of data analysis and visibility; labor management and scheduling; domestic transportation and logistics; and warehouse distribution and operations.
As competition heats up, 3PL fulfillment solutions keep your business relevant and profitable. They deliver confidence and value, along with repeatable processes, insights, cost control, and easy access to the latest technology.  
Fix chaos and close more deals
Need to alleviate chaos and profit degradation imposed by labor, billing, and custom fulfillment challenges? Eliminate these problems and broaden your network with a third-party logistics 3PL fulfillment solution. 
Investing in solutions like Deposco wins confidence and contracts through increased velocity, value-added services made easier, and an agile process for scaling.
Deposco works with some of the fastest-growing 3PLs in the world who have grown exponentially and stood the test of time. They credit our 3PL fulfillment solutions as a key component of their growth. Why not request a demo?
We also invite you to check out more 3PL resources to improve client attraction and retention: